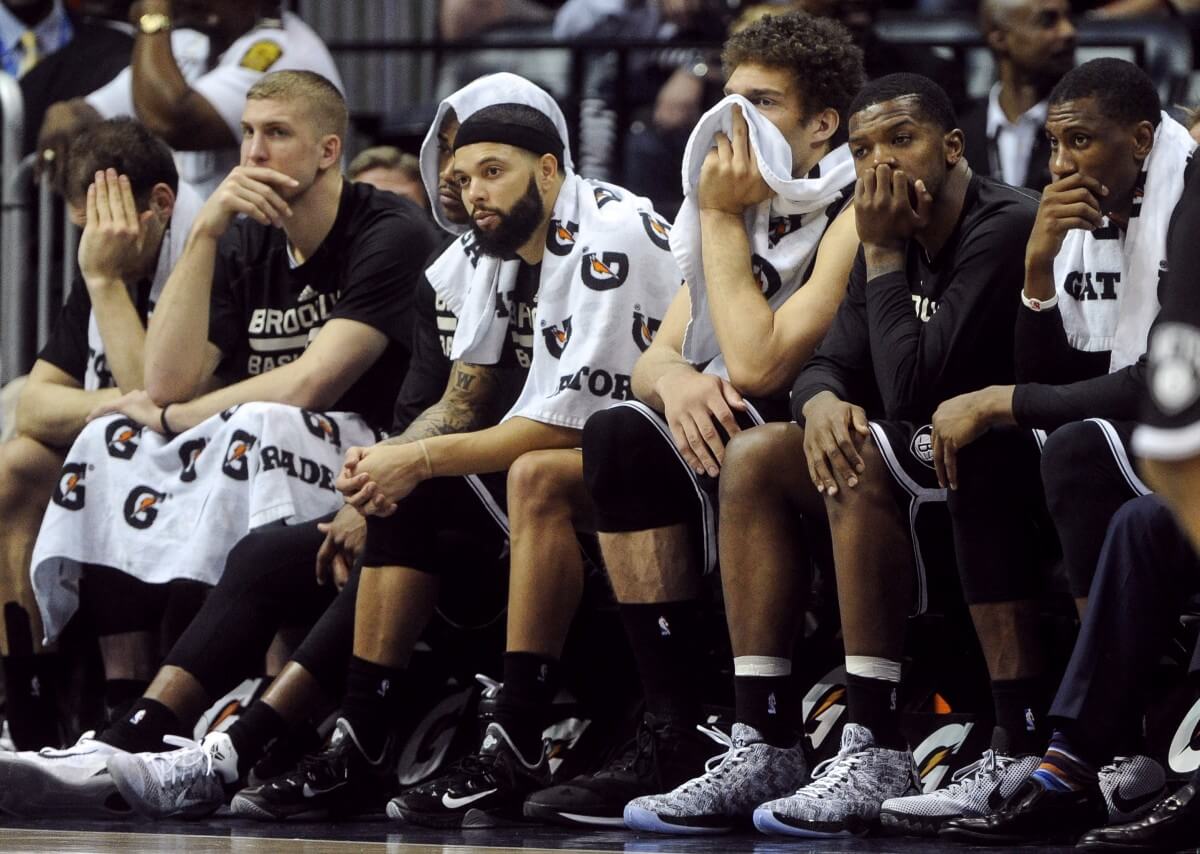 This is kind of morbid, but it's probably like someone about to be in a crash. You're not thinking, 'I'm gonna die,' you're just thinking, 'What can I do to avoid this crash?'

And then the crash happens, and you have to deal with it. So that's kind of how I look at the game. — Lionel Hollins, April 15
Most professional hunters agree that the easiest way to kill a zombie requires a swift blow to the brain, neutralizing either the frontal lobe or the brain stem, depending on where the synapses are still firing. It's easier said than done, given their immense physical strength and bone density, but with the right tools and the proper angle of attack, it can be done.
Sitting at his locker, after three questions from the media and one impassioned speech from an assistant coach asking him to stay beyond the season, Brook Lopez sighed and slammed his phone down three times. "Not a fun loss," he exhaled. It wasn't, even by season-ending standards. While the Nets went down with a fight in each of their last two elimination games — a six-point loss in Game 7 against the Chicago Bulls in 2013, and a 96-94 defeat to the Miami Heat last season — Game 6 ended with a whimper following an annihilation, one Kyle Korver long-distance snipe at a time.
The clock officially struck midnight on the 2014-2015 Brooklyn Nets season at 10:31 P.M. on May 1, but the knockout punch had been delivered somewhere between one quarter and one year earlier. A 23-3 Atlanta Hawks run to open the second half of Game 6 closed the door on a strange, wholly uninspiring, disengaging season, one that dragged on six more games than necessary, and the final score of 111-87 was little more than the hammer cracking the skull once and for all.
The experiment of building a championship contender around Deron Williams, Brook Lopez, and Joe Johnson failed long ago. That this is a fact is not new or particularly challenging; this is not a fresh wound to a growing target. This season is the result of that failure, after LeBron James delivered a sharp 49-point blow to Brooklyn's wobbly, demonic cranium during last year's playoffs. But since you can never be sure that you've killed the undead, we've spent the past year eyeing the corpse baking in the sun as the flies begin to swirl and buzzards pick at the torso, wondering if the damn thing was going to open its eyes again.
While most zombies can be quashed with the proper blow to the head, some require a complete dismemberment, and so the Nets began the process of self-immolation. One chunk of the brain wanted out, and Jason Kidd was torn off the stem and tossed to the deer. Gone was attached hand Paul Pierce, who'd pried the Nets past the Toronto Raptors in Game 1 of the playoffs and then swatted them away in Game 7. Ditto for funny bone Andray Blatche, whose goofy time in the NBA had run its course; arms & legs Andrei Kirilenko, who was distracted by off-court issues and a desire to go home; and central nervous system Shaun Livingston, too sentient (and too expensive) to stick around and decompose.
At moments, the body stirred. The Nets began the season 4-2, with three double-digit wins and two apparent aberrations, and led on the road in Phoenix after arguably their best half of basketball during the season. But Joe Johnson was off this shit!!, his complaints about selfishness rang true, and the team lost their next five games.
They later won six of seven games during an inexplicable stretch that bled into January, dismantling a Chicago Bulls team on the road that would blow them out at Barclays Center in a crucial late-April game. Chemistry between Deron Williams and Brook Lopez on a bread-and-butter pick-and-roll set surged the Nets ahead in the race, and after falling to a dismal 25-38, the team fell face-first into the playoffs, needing a fourth-quarter comeback against a 25-win Orlando Magic team and a loss from the Indiana Pacers two hours after their own season ended just to slump in. It was as up-and-down as a near-.500 team could muster.
But even with two shocking playoff wins, Brooklyn's battle to sneak into the last spot of the playoffs served as little more than birdseed for the Atlanta Hawks and chum for a national conversation about why the playoff format needs to be changed. Their season was marred by a curious, desperate dynamic between marketing their faulty stars equally to the general public and to 29 NBA general managers.
Perhaps no player embodies the zombie trope more than Deron Williams, who has become a shadow of his former self, riddled with injuries that led to surgeries that led to sunken confidence. He appeared animate in spurts, alert enough to pull off a 35-point playoff game, but sapped enough to score only 36 points in the other five combined.
Those bursts of greatness are what made Williams so hard to watch. He broke out of his shell just enough to deliver one or two filthy crossovers per game, allowing us to return to a place where he reigned, if only for a moment. But he was ultimately done in by his own creaky body, breaking down piece by piece before our eyes. The nostalgia was crushing.
There were more. There was stalwart Joe Johnson, a pricy relic of an isolation-heavy post-Jordan era who had adapted his game just enough to be effective, but could only push his own aching body — 41,000 minutes and counting — to a finite limit. There was Lopez, the lumbering scorer who represented the finest of what the NBA could offer in a post-up player, talented enough to lead a contemporary squad but suited to a style played 20 years ago.
There was Jarrett Jack, a Tasmanian Devil of a point guard, single-handedly carrying the Nets to four or five wins, and committing enough silly turnovers and careless mistakes to drag them out of twice that many, making the kind of aggressive mistakes that delight you if he's an experimenting rookie but are terrifying from a seasoned veteran. There was Alan Anderson, who against all odds has played more minutes than any Nets player besides Deron Williams and Joe Johnson in the last two seasons, threeing-and-D'ing his way to relevance but ineffective if one of those two traits wasn't working.
There was Thaddeus Young, late-season transplant that injected life into a decrepit roster with nifty steals and dipsy-doo layups, and the two-headed rookie guard of Markel Brown and Bojan Bogdanovic, the former rising for dunks & emerging as a lockdown perimeter defender, and the latter staving off a couple of late-season losses with hot three-point shooting. There was Mason Plumlee, American Hero turned bench pariah, who became worse in an attempt to diversify his game.
There was the ever-combative coach Lionel Hollins, brought on to lead a team in decay, who took four months to gel with the team's best player and stuck with troublesome lineup combinations long past their expiration date. His often odd decision-making came in a season that not only never got off the ground, but never really had the chance to break through the dirt in the first place.
They'll be back, in some form or another, next year. They might look the same, they might look completely different. There will be reasons for hope, the currency every sports franchise builds its goodwill on. Bogdanovic will develop, Brown will defend. Perhaps Lopez will be back to build on his late-season swell, or Mirza Teletovic will return to become the player we all know he can be. Maybe the Nets get a draft pick or two, and move forward building on this era's successes and failures.
But this Nets season never had a sense of purpose beyond survival; not after the slow start, not during the constant churning of the rumor mill, nor in the first games of the playoffs. The final night was not a blowout bang to close the season, it was a continuation of a loss that began nearly a year before. If this Nets season proved anything, it's that you can watch a zombie die, ripped apart piece by piece, until there's nothing left to do but decompose, and wait for the soil to spring life again.